Sculpting Specific Body Parts : Build Chest Muscles Like Your Favourite Super Hero
Build Chest Muscles Like Your Favourite Super Hero

Take a walk into any gym and you will see people pumping their chest insanely. Why? Because we are genetically wired to think that having a strong and powerful chest is a way to ward off adversaries and also natural female magnet. The fairer sex instinctively loves to snuggle up on a strong chest as it gives them a sense of security and protection. Even in the animal kingdom, the gorilla pounds its chest to scare off foes and attract mates.

Your pectoralis or commonly called the pecs is a big muscle group. For them to grow fast and massive, you will have to lift heavy and in excellent form. The fundamental exercise which you must do for your chest routine should be the flat press. Stay away from the machines. Use free weights. Flat presses work your entire chest, and are probably the best mass chest muscle builder. Dumbbells are superior to barbells in that they allow a greater range of motion, more balancing work is required and therefore recruiting more fibres for massive growth. However you should do barbell presses for variations and shocking effect for further muscle growth.
Next will be the incline dumbbell press. Inclines work the top of your pecs giving you the broad and wide chest like those of the gladiators. The exercise is executed the same as the flat press except that you are lying on an incline bench. I do not recommend decline presses as that will develop your lower packs and gives you a drooping chest look. We want a strong and powerful chest, not tits!
INCLINED DUMB BELL BENCH PRESS
Starting and end position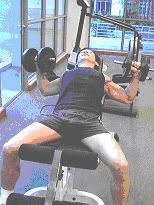 Mid position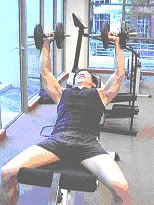 Another great mass builder for your chest is what I call the superman dip. If you do the vertical dip, you will end up working your triceps and shoulders more. If you lean forward and tuck in your chin into your chest and perform the exercise like a plane taking off or Superman flying towards the sky, then you will place major stress on your chest for a full development. Make sure to go down to where you feel a deep stretch in your chest. The bottom part of the rep is where you chest gets the work.
Here is how a Superman Dip looks like.
SUPERMAN DIP
Starting and end position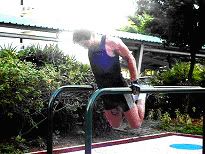 Mid position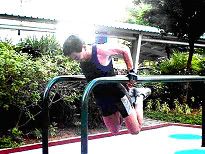 Our writer:-
Name: Chris
Age: 44.
Background: Trainer of clebrities such as winners of national and international pageants, models, TV personalities and actors. Have appeared on national papers and TV on numerous occasions.
Websites:
http://www.sgfitnessonline.com/
http://www.sgfitness.com/
This article is brought to you by Nutrition Park - Bringing you good nutrition and real results. http://www.nutritionpark.com/ .
Last updated on: 08/09/2007, 14:55:43hrs